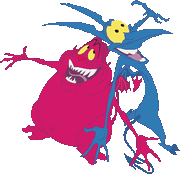 Pain and Panic are socially awkword Imp minions of Hades who are minor villains in 
Chipmunks Tunes Babies & All-Stars' Adventures of Hercules
. They are planned members of the Shell Louge Squad.
Pain and Panic made their first guest appearance in a Cartoon All-Stars crossover in Chipmunks Tunes Babies & All-Stars' Adventures of 101 Dalmatians: The Series.
Pain and Panic will guest star again in Alvin & Friends Goes to South Park: Bigger, Longer & Uncut.
Ad blocker interference detected!
Wikia is a free-to-use site that makes money from advertising. We have a modified experience for viewers using ad blockers

Wikia is not accessible if you've made further modifications. Remove the custom ad blocker rule(s) and the page will load as expected.