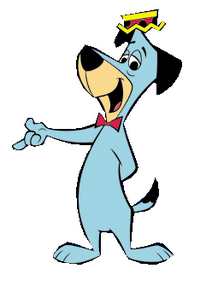 Huckleberry Hound
 is a blue dog that speaks with a Southern drawl, with a relaxed, sweet, and well-intentioned personality. He is one of Yogi's friends. Alvin, Pooh and the rest of their cartoon characters were hanging out with him in 
Chipmunks Tunes Babies & All-Stars' Adventures of The Good, The Bad, and the Huckleberry Hound
.
Huckleberry Hound will meet Alvin, Pooh, Thomas, Twilight Sparkle and the rest of their cartoon characters in Chipmunks Tunes Babies & All-Stars' Adventures of Yogi Bear and the Magical Flight of the Spruce Goose.
Ad blocker interference detected!
Wikia is a free-to-use site that makes money from advertising. We have a modified experience for viewers using ad blockers

Wikia is not accessible if you've made further modifications. Remove the custom ad blocker rule(s) and the page will load as expected.